Top of the class

Live it up right where everything is happening. A high-rise residential condominium development with top-drawer amenities for hip and modern living. It's the newest prime address along thriving Katipunan Avenue, right across Ateneo de Manila University and Miriam College.

Berkeley Residences. Comfortable and convenient living, for your life on the move.
BERKELEY RESIDENCES
is conveniently located along Katipunan Avenue in close proximity to prominent schools and learning centers (Ateneo de Manila University, Miriam College, UP Diliman, UP Integrated School, CCA, KOSTKA, PSBA, among others), bookstores, convenient stores, boutiques, fast food chains, restaurants, coffee shops, churches and hospital.
Easily accessible by private and public transportation, MRT and LRT 2 are just a few minutes away. A pedestrian overpass is situated right next to Berkeley Residences.
Good investment opportunity. The strategic location of Berkeley Residences would dictate the market – mostly students, professors and employees of the neighboring schools and learning centers – many of them rent spaces for the duration of their stay in the academy.
ARCHITECTURAL THEME
Berkeley Residences is a 35-storey modern building with clean lines and unpretentious spaces. With units ranging from 19 to 80 square meters (studio-type, 1-bedroom, 2-bedroom and penthouse units), it is designed to suit the needs and the lifestyle of college students, working students, academicians, professionals and even families. It shall also be called home by its occupants.
AMENITIES would include the following:

1. Student Lounge

2. Billiards Hall

3. Swimming Pool

4. Sunken Deck

5. Gazebo

6. Tree Court

7. Study Area

8. Flora and Fauna

The GROUND FLOOR would house:
1. 24/7 Convenient Stores
2. Gym / Fitness Center
3. Computer / internet centers
4. Review Centers / school
5. Specialty Restaurants
6. Coffee Shop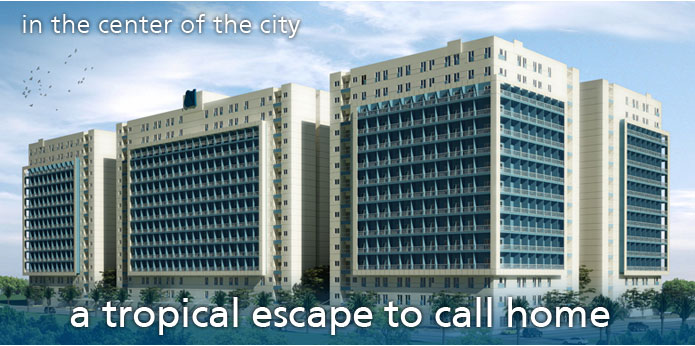 Sea Residences is a 15-Storey, Six-Tower Condominium Project located at Lot 4 SM Business Park, Diokno Blvd., Mall of Asia Complex, Pasay City.
This project will be launch this last quarter of 2008. For more info pls. click the picture.
FOR ANNOUNCEMENT PURPOSES ONLY